Minecraft 1.9.3 Download
22 comment
|
24129 view
| Date: 19-07-2016, 16:46
|
Share with your friends:
Windows:
MacOS/Linux: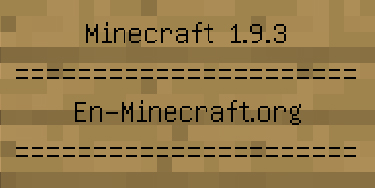 The developers after the release of 1.9, which added a lot of Goodies have started to do small updates that fix bugs appeared. And here's another version - 1.9.3.
In this version we tried to fix the horrible lag on the server caused by mobs, and also overcame a memory leak, the problem could see many players in version 1.9. And of course lots of little changes that make the game better. From our site you can
download Minecraft 1.9.3
completely free at the link above.
Release date Minecraft 1.9.3: 10 May 2016.
Changes:
- Added command /stopsound. It can help to stop the sounds the player is done with the following regular expression: /stopsound [category] [audio] . If you do not specify a particular sound, then disabled.
- The developers have created a blacklist of servers, checking for the presence of such a server in the list takes place while the player to connect to the server. Making servers for violating the EULA (User agreement) with the company Mojang.
Bug fixes:
Zombies could cause server lag due to not achieving its original path.
Server: Movement of mobs would cause lag, in version 15w49a and above.
- Generating performance of chunks regressed by 20-30%.
- Fixed problem with memory leak.
- Other fixes.
Bug fixes in 1.9.3 Pre-1
- The problem with colored skins.
- Some parts of the skin could not be displayed.
- An adult horse and a donkey could not climb 1 block high.
Information
Would you like to leave your comment? Please
Login
to your account to leave comments. Don't have an account? You can
create a free account
now.