Skins Minecraft for Boys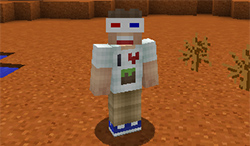 Minecraft is an interesting universe with its own rules, spaces and opportunities. And the most interesting aspect of this whole mix are the Minecraft skins for boys, which allow to add some fun to your adventure and try to achieve perfection. Honestly, there is no functional benefits you receive, and will simply create a image of your character, giving it colour, personality and just a pleasant pastime. This direction has a lot of skin for the main character, so you definitely decided on their choice and will be able to achieve success.
Cool skins for boys Minecraft is a great opportunity to relax a little and try to enjoy the game. This time we offer wide range of products, which includes not only beautiful skins for boys, but there were many original variants. At the moment this section is updated almost every day, so you can easily enjoy your adventures in different images. They do not give advantages, but is able to diversify the adventure, so you can get not only pleasure, but also to implement some of his ideas.